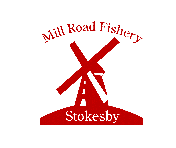 All text and images on this website are copyright of the site owners unless otherwise indicated 2019
News Archive 2013
Autumn Update
The fishery is much quieter now as the "fair weather" fishermen stay indoors. Those that are still visiting are experiencing some good sport though. Mick, a bailiff from another local water, visited Mill Road for the first time last week and was impressed at what he saw. Mick ended up with 15 fish with the two biggest weighing 9lb and 7lb. Our "regular" Mick who visits every week keeps catching. He says his tip is to look out for where the carp are feeding and concentrate on those spots. In the still weather the fish give away their presence through bubbling as they feed on the bottom.
Two things can be certain at Mill Road this winter - no salt tides and no otters! My fishing on the rivers has been abruptly halted by the salt tides that occurred a couple of weeks ago. It was quite distressing to see the large numbers of dead skimmer bream in the river Thurne at Potter Heigham. According to the reports from the EA there are still large numbers of fish alive so hopefully things will settle again. Janet and I have spent the last two weeks clearing around the otter fence so that we can turn the electric wire back on in readiness for the winter. Crawling around on our knees for hours on end is not the best entertainment, but a necessary chore. Just don't ask Janet if she's pleased with the ever growing local otter population!! (Updated 25 October)
September Update
The fishing at Mill Road is improving all the time now as the temperatures reduce from the summer highs. Marc brought his son Declan to experience the prolific silver fish in the lake and the young lad caught roach non stop fishing and feeding maggots. His day was capped off by his first carp making a moment they will both never forget says Dad. Marc went on to say "It's the first time we have fished the lake and I have to say what a beautiful, tidy, well run fishery it is......we will definitely be back!!"
Another happy angler is Alan Brice. Alan had visited a few times during the summer and sent a selection of pictures with quality carp and roach.
Pleasant relief
As I sit typing this on a Saturday morning it is actually raining and looks set to be cloudy all day, a change at last from the last few weeks of consistently hot and sunny weather. Heavily stocked fisheries like Mill Road tend to suffer in the very hot weather, water levels and oxygen levels can fall quickly. We installed an aerator earlier this month which is run overnight and on overcast days to ensure the oxygen content stays healthy. The green algae act just like plants, generating oxygen through photosynthesis, but then absorbing the same oxygen during the night. Sport has been up and down this month as the fish adjust. Some anglers have enjoyed really good days with plenty of carp to double figures whilst others have struggled. I've had a few short sessions and took ten carp to about 7lb fishing 8mm pellets with a method feeder against the island margins. On another afternoon I float fished soft hooker pellets and krill paste close in and took endless tench and the odd carp. I would suggest trying different tactics, limit the amount of feed and look for where the fish are feeding.
Phew what a scorcher
Several days of hot, hot sun had left the lake looking a little tired and the fish out of sorts, but a break in the weather has had the fish feeding well again. Nick King and his son Josh visited on Monday evening and Josh (aged just 12) showed the oldies how it is done with carp to 8 1/2lb. Nick was very please with the roach (right) weighing in at 1lb 8oz, the best weighed and photographed at the lake for some time.
Peter Belton and his friend Stevie visited the lake and had several carp between them up to 7lb including those shown below. Peter describes the fishery as "wonderful" and even better than last year, thanks for the kind words
Long awaited summer
At long last we had a few days of consistent hot and sunny weather. The lake was surrounded by umbrellas, but this time to shelter the anglers from the burning sun. The fishing has been reasonable, some anglers faring better than others, but some good catches have been reported. One of our regulars, Johnny (right) landed this perfect condition common carp of around 10lb fishing luncheon meat. Meat is still catching its share of fish with pellet also bagging plenty. This week's top tip for fishing the evening sessions is bring your mozzie repellent! Our new sign about compulsory unhooking mats seems to be working, so thank you to all our visitors. (10 July)
With the weather up and down at the moment the banks have been quieter than we would normally expect in June, but those anglers that have braved the wind and rain have had spectacular sport. Tony catches plenty every time he visits for his short stints and is seen here bending into another carp. Tony fishes paste in the close margin under a waggler float (his top tip is currently the Dynamite Baits Krill paste) and feeds sparingly with small pellets.
I received a nice email from Darell Balausiak. He reports good fishing with his son, ten year old Lucas. The pictures below are fish of 5lb and 7 1/2lb and both came to margin fished pellet along with ten other fish to 6lb. Well done to both anglers (22 June)
Roach uncovered
The fishery has settled down again now after the excitement of last week's spawning. In the immediate aftermath the fishing was a bit up and down with some good days and then a slow day, but now the sport has become more consistent. We have had many reports of the big roach that have grown on in the lake. One of our regular visitors, Barry, sent this picture in of a cracking fish (right). Barry was float fishing red maggot in the margins and took this fish along with sixty others during a short day time session.
I decided to have a crack at the roach last week and set up with a light float rig, size 16 hook on a 2 1/2lb hook length. I baited with double red maggot and fed maggots and hemp every few minutes to get the fish competing under the rod tip. I was dropping the float right in the margin and getting bites straight away. After a few short hours I had caught over 30 roach between 8oz and 12oz with a handful of larger fish. The three biggest weighed between 1lb 2oz and 1lb 5oz (all weighed on accurate digital scales). I'm sure that bigger roach are present and will go back in a few days to have another go. The roach fishing was also interrupted by the occasional carp and I had two of 4lb and one of 8lb.
Our neighbour Tony came over for a late afternoon/evening session and landed twenty carp. He fished paste under a float with a light feeding of pellet.
I found a great review of the lake on the internet last week from a visitor that came last Christmas. Fred Simeons has a site http://www.pikeandslippers.com with tales of his fishing in both Norfolk and Scotland that is worth a visit. Coincidentally, the week after I found the site, his brother visited the lake and had some good fishing with his daughter. (17 June)